Archaeology: Just Add Water "Światowit" Suppl. Series U
Światowit Suppl. Series U
Volume I
Volume II
News
Editorial Guidelines for Volume II
Editors' Board
"Światowit" is a periodical of the Institute of Archaeology, University of Warsaw, issued since 1899.
More information about the fascicles are available here:
In 2018 the first volume of the Supplement Series U has been published, as an outcome of the 2nd Warsaw Seminar on Underwater Archaeology (2017). Second volume was issued in 2019, which was possible due to the funding from the Polish Ministry of Science and Higher Education (959/P-DUN/2018).
The submitted papers are a subject to evaluation by the editors' board in accordance with the editorial guidelines. Then they have to be accepted by the series' editor. After the editing process the article is subjected to an expert review of the member of the Reveiewers' Board.
The prolonged enterprise, preparing the first volume of the new supplement series of the "Światowit" periodical, has finally been completed!
Hereby we present the final version of the monograph.
We are happy to finaly conclude this project, but invite You to participate in the next one: in January 2019 we are holding another edition of the conference, and plan to publish yet another volume.
Enjoy reading!
Archaeology. Just Add Water. Underwater Research at the University of Warsaw. Światowit Suppl. Series U, vol. I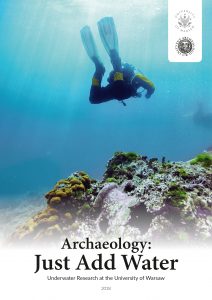 Publisher: Institute of Archaeology, University of Warsaw
Editior of the Series:
Professor Bartosz Kontny
Institute of Archaeology, University of Warsaw
Research Interests:
archaeology of Pre-Roman, Roman and Migration Period in the Barbaricum / ancient weapons / underwater archaeology / boatbuilding
Editiors of the Volume I:
Aleksandra Chołuj
Małgorzata Mileszczyk
Karolina Trusz
Editors of the Volume II:
Aleksandra Chołuj
Małgorzata Mileszczyk
Magdalena Nowakowska